All Inventory
1986 Inline 2 horse gooseneck trailer . Trailer is in good condition for the age .
Stock #: HP947
2009 Featherlite stock trailer 2 center gates, 14 ply tires an spare tire, mats, 7k axles. This trailer is in super good condition an has been serviced an is ready to go .
Stock #: SP938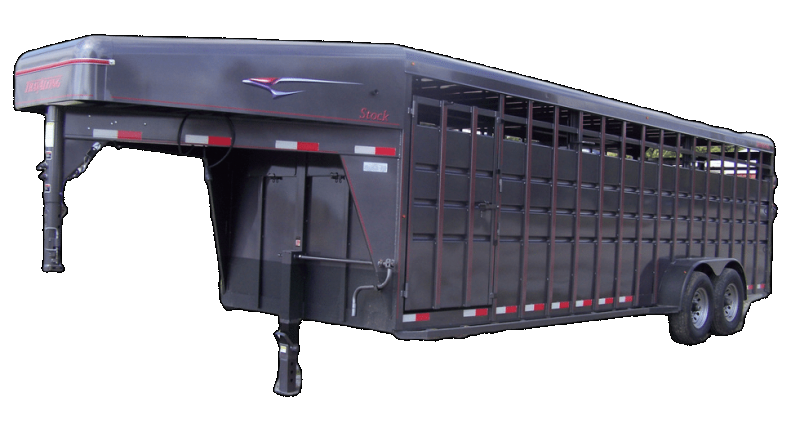 Standard Gooseneck Stock Trailer 6'8"x24' - 24' with 2 7,000# axles , 16" Wheels , 10 ply tires Standard Options 6'8" Height 6'8" Width Fold Down Gate at Nose Sliding Rear Gate With Slam Latch and Butterfly Latch Treated Wood Floor Aluminum Treadplate Gravel Guard ...
Stock #: S2419
Outside Skin Gooseneck Stock Trailer 6'8"x24' 2 center gates Available Lengths : 16' with 2 6,000# axles , 16" Wheels , 10 ply tires 20' with 2 7,000# axles , 16" Wheels , 10 ply tires 24' with 2 7,000# axles , 16" Wheels , 10 ply tires 28' with 3 7,000# axles , 16" Wheels , 10 ply tires ...
Stock #: S2403
OVERVIEW Value meets versatility in the famous Featherlite Model 8127, which is recently enhanced with redesigned sidewalls and a redesigned slam latch. This gooseneck stock trailer offers prospective buyers the ability to customize their trailer, including the length and height. They can choose as well from an almost endless list of customization options. This is a trailer that is guaranteed to be uniquely yours! ...
Stock #: S2402
15 Featherlite Stock 30' Gooseneck 8000# axles 2 center gates
Stock #: SP933
2001 Sooner 4 Horse with weekend package, great trailer , easy pulling . Has shower, toilet, sink , microwave,2 burner stove, fridge, new awning, 14ply tires, hay rack.
Stock #: HP924
2022 Travalum Aluminum stock trailer 6'8"x24' , 2 center gates, 7000#axles, 34" side door , Brush fender.
Stock #: S2311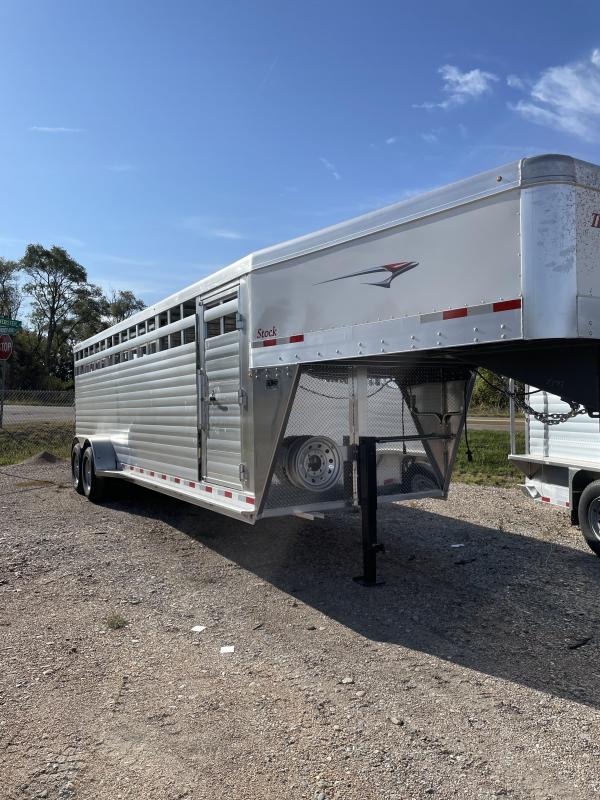 2022 Travalum Aluminum Stock trailer 6'8" x 24' ,34" side door , standard fenders , 7000# axles
Stock #: S2310
2022 Travalum 6'8"x16' Aluminum stock trailer . 1 center gate with slider , panel loops on rear,7000# axles, spare tire.
Stock #: S2187
WW Paul Scales 300 Series Single animal scale . Like new condition has only been used once . Pen is complete with adjustable width squeeze which holds animal firmly in place, speeds up weighing process. The elaf spring axle assembly is equipped with a hand wench for raising and lowering. ...
Stock #: BK102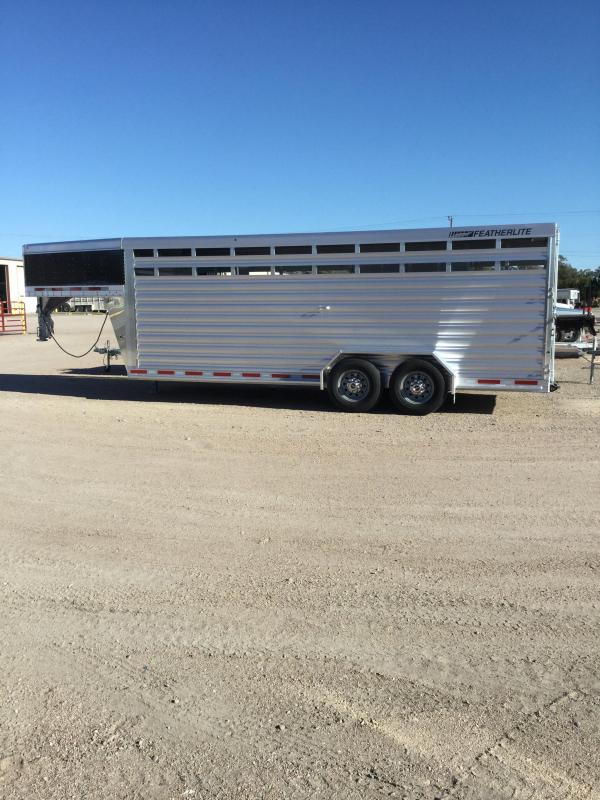 While Featherlite trailers are known for their innovative and convenient options, the Model 8117 stock trailer offers convenience through simplicity and a great price! Simplicity doesn't mean a lack of quality, however. With its premium, corrosion-resistant aluminum construction, Model 8117 is a great value and option for your livestock hauling! Newly redesigned for 2017, this trailer is even more durable with thicker sidewall extrusions. ...
Stock #: S1946
Get a Quote
Please enter your contact information and one of our representatives will get back to you with more information.
Click to Call
Please enter your name and phone number to get calling options.